We tested the migration speed of the most popular conversion and synchronization directions among our clients. The results you can find below.
NOTE: all tests we carried out on the local machines because the migration speed of remote databases mainly depends on the servers' occupancy and bandwidth.
The tests were performed on tables with 10 columns: 4 fields with Numeric data, 2 Date/Time fields, and 4 other Character/String fields.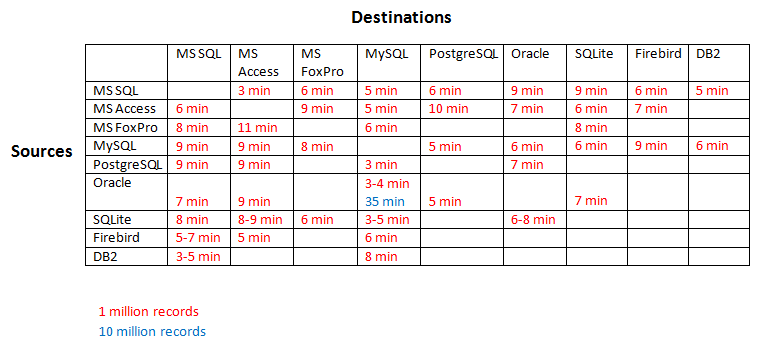 The migration speed is influenced by many factors:
- if the two DB servers are in the same machine, same network, same data center, or are separated.
- whether a computer is powerful, the network is busy, whether there are any firewalls and how quickly the servers respond to.
- database structure complexity, for example, if BLOBS or Images exist, the process will be longer.
All tests were held on the databases with 1 million records.
Only in 1 direction - from Oracle to MySQL, we also migrated a database with 10 million records. This testing is an illustrative example of how the conversion and synchronization speed increases depending on the number of entries.