DBConvert software interface is available for multiple languages. It is also possible to change a look of a program choosing a skin. Click "Settings" button at the bottom of the DBConvert window.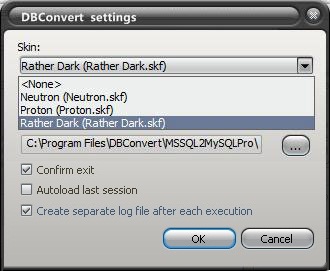 If you check the "Autoload last session" checkbox the last saved session will be automatically loaded when you start the program.
"Create separate log file after each execution" option - if set, the new separate log file will be created for chosen session after every its execution.
Here you can also select language for the program interface.

In "Work folder" field you can browse a directory, in which the logs and sessions will be saved.

There is an option whether or not to display exit confirmation window. If the "Confirm exit" checkbox is checked every time you close the tool the following message will be shown: