The scheduling function of our tools is based on the Standard Windows scheduler.
1. Make sure you've entered correctly your user login and password for Windows system in our Scheduler settings. Otherwise, the task will not be run as expected.
So, push "Edit" button, in the appeared "Edit task" window press "Settings" tab where you should enter your user account name, password, and password confirmation. This user account information must be the same as you use for Windows OS.
As the standard Windows scheduler is used to add tasks for the conversion / sync process, you will need to create a .bat file. How to do it, see the batch file sample.
If sessions have been already created, they can be just specified in .bat file.
Note: Please read the information about the standard Windows scheduler at http://technet.microsoft.com/en-us/library/cc786711(v=ws.10).aspx
2. Additionally to login and password, please choose the end date of your task.
In the "Edit task" window, press the "Triggers" tab and assign a timetable for starting a task. Press the "Advanced" button and activate the "End date" option.
3. One more reason of such scheduler malfunction is the non-activated option in the Windows Scheduler. Please see the screenshot below.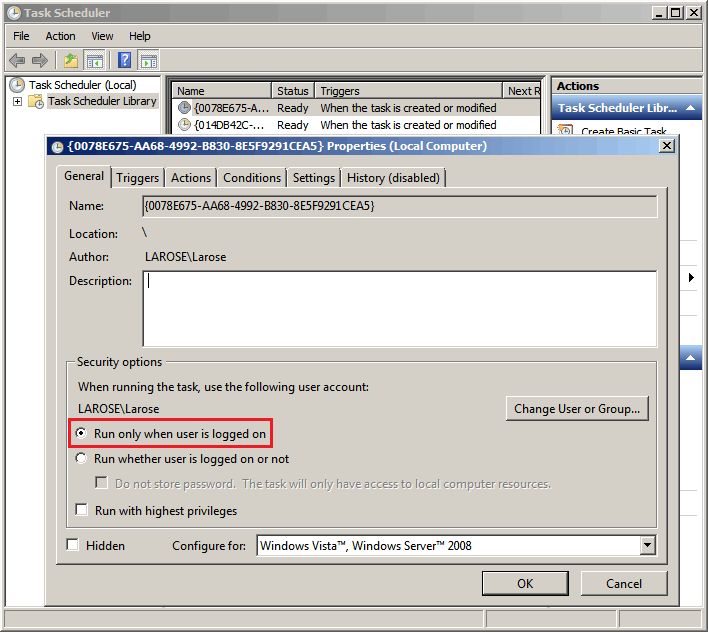 NOTE: When using Windows Vista / Windows 7, User Account Control (UAC) should be disabled as shown below: